Connecting industry leaders with emerging healthcare innovators.​
Through salons and discussions, we foster connections between passionate healthcare innovators and the industry leaders poised to disrupt the future of digital health.
The benefits of joining Breakthrough as a member include:
Setting priorities to guide the development of research studies for selected digital health technologies.
Having exclusive access to investment and partnership opportunities with the latest digital health tech under development.
Gaining insights into the future of digital health tech by seeing the results of the verified and risk-reduced studies.
Upcoming Breakthrough board meetings
Our current board members are industry leaders from across the digital healthcare sphere.
Doug Thiede
SVP, Life Sciences
NYC Economic 
Development Corporation

William (Bill) Taranto
Founder & President
Merck Global Health Innovation Fund
Patrick Pilch
Co-Founder & Director 
Healthcare Excellence & Innovation at BDO Global
Heather Cole-Lewis       
Director of Behavior Science
Johnson & Johnson
Judith Dunn
Executive in Residence (EIR) Atlas Venture
Fernando Gomez-Baquero
Director of Runway and Spinouts
Cornell Tech
Guy Eiferman
Partner (Former Merck Exec)
Nextstep Health
Jim McGough    
Co-Founder
Novartis Biome
Lauren Doolan
Venture Operations
Startup Health
Wen Dombrowski
Founding Principal & Chief
Convergence Officer
Catalaize
Harsha Murphy
Managing Partner
Consummate Capital LLC
Sean Dowling
Managing Director, Strategic Ventures
Northwell Health
Emily Kagen
VP, Digital & Innovation Strategy Northwell Health
Robin Roberts
Co-Founder, Managing Director – Head of Strategy                     Novartis Biome
Amy West
Head of US Digital
Health & Innovation Strategy
Novo Nordisk
Dr. Sheldon Elman, MD
Chairman & Co-Founder Esplanade Ventures

We support promising startups to capitalize on their value by providing tailored strategic advice.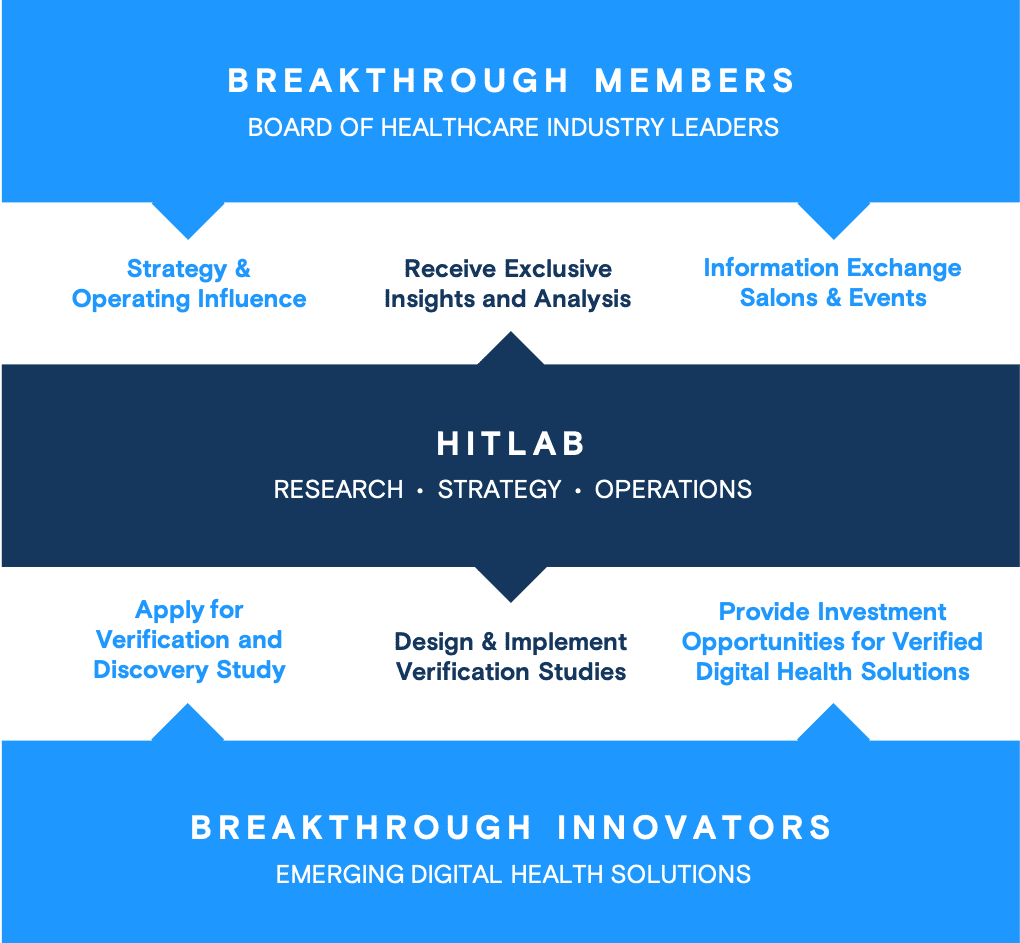 Learn more about becoming a board member, alongside fellow industry executives.
HITLAB Breakthrough Alliance was created to accelerate digital health innovations through evidence-based research and insights. This new digital health alliance is a subscription-based service with a mission to improve health outcomes and care delivery from verifying emerging technologies and research—driven by the perspectives and strategies of its members.
NYCEDC launched the Digital Health Breakthrough Network in 2016 as part of its broader efforts to facilitate growth in New York City's healthcare and life sciences sectors. Now, HITLAB operates the program independently and continues to provide prototype testing services to the digital health ecosystem.